Steve and Jay's SS1000
Saddle Sore 1000
Snow Sled 1000
or....
"no problem it's not going to last (!?!)"
*Click on the little pictures to see big ones
Comments? Leave me a note
---
Out of bed at 5:00, eat a quick breakfast and head for Chico, 20 miles away to meet Jay Swenberger at the gas station. I'm excited, gonna ride 1000 miles today - Weather forecast says cloudy in the morning and nice the rest of the day. Rains most of the way to Chico…Uh oh, this wasn't in the forecast! No problem it stops raining when I get to Chico. Jay and I gas up, get Ron at the gas station to sign as a witness and leave at 6:11 AM on April 18th.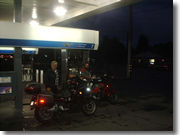 We head north on 99 from Chico with me leading the way, I'm comfortable in my jacket, 2 flannel shirts and ski pants, temperature leaving Chico is about 50 degrees. We merge onto Interstate 5 at Red Bluff and head north with Jay leading the way (man, he cooks, but it's ok, I'm excited). We pass through Redding in a blink of an eye. About 20 miles past Redding it starts to rain - "no problem it's not going to last (!?!)". We stop at the 100 mile mark at a little roadside diner to use the restroom and the locals in the diner had that look like "you guys are crazy to be riding in weather like this". We know…
Approaching Weed, CA and it's still raining, normally the view of MT Shasta is breathtaking from here but today I can only see the base of the mountain through the rain. The base of the mountain is covered with snow. We turn onto US 97 at Weed and leave the 6 lane interstate behind. We start to climb and immediately it starts to snow! "no problem it's not going to last (!?!)". We keep climbing and the snow is sticking on the road - still car tracks to drive in, we pass the snowplow and keep going - "no problem it's not going to last (!?!)".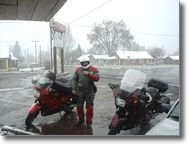 We take a rest stop for coffee at Dorris, CA - the snow's building up on our windshields and face masks - My feet are sure cold, I just gooped up my boots last night and I take them off - dry inside - just cold…Jay's doing pretty well with his electric vest and gloves but his boots are leaking and his feet are coooold as well. We ask the waitress what the roads are like ahead and she describes the conditions with liberal use of the words sh*t and sh*tty, very colorful language for a middle aged lady!
Cross into Oregon heading to Klamath Falls - still snowing - not sticking on the road except on the many summits - stay in the car tracks, we're OK…We make our first gas stop in Klamath Falls (still snowing, "no problem it's not going to last (!?!)"). Uh oh, no address on the gas receipt, we ask the attendant for something with an address on it and he runs a blank credit card form with the address imprinted on - nice guy - describes the weather heading east on US 140 about the same as the waitress in Dorris but without all the colorful language. Head east on 140 towards Lakeview Oregon.
We Enter Lakeview Oregon after numerous summits with snow on the road - still snowing - "no problem it's not going to last (!?!)". After gassing up we stop
at a Jerry's restaurant for food and to warm up. Our feet are wet and reeeeally freezin'. The locals crowd to the window to see the crazy Californians ridin' those sickles in the snow - they just shake their heads.  - "no problem it's not going to last (!?!)". While waiting for our food we put on dry socks and cover them with plastic bags (I use pretty little shower caps but Jay is kind of uncouth and uses trash compactor bags).
US 140 from Lakeview, Oregon to Winnemucca, Nevada is a really cool motorcycle road that goes from 7000 foot summits (covered with snow - "no problem it's not going to last (!?!)") to long straights that you can see ahead for miles and really make up time. During one 80 mile or so straight run we see 2 cars - a UPS truck and a FedEx truck - I think this should qualify as the loneliest road in America! I promise myself to come back over this road with my camera (too cold to take pictures this time) and my wife and take about 3 days to make the trip. About 230 miles with no towns or gas stops between - thank goodness for the large tanks on the Connies.
We pull into Winnemucca and the odometer passes 500 miles - whew, we're halfway through - oops, 500 miles took 12 hours - Too cold - too many stops - not snowing but still raining - "no problem it's not going to last (!?!)". We stop in a restaurant to drink coffee and warm up. Our planned route took us east on I80 to Carlin, then south to Eureka and West on US 50 all the way back to California but neither of us are lookin' forward to more snowy passes so we decide to turn west on Interstate 80 towards Reno.
About 50 miles before Reno it FINALLY stops raining - just like I said - "no problem it's not going to last (!?!)". We must have been following the storm Northeast - 14 hours of snow and rain - Gotta get better boots and gloves! We gas up in Sparks, Nevada, no rain, no snow, about 35 degrees and windy - brrrr. Our next obstacle is Donner Pass where the weather on a day like this is a crapshoot (no pun intended). The electronic signs on the freeway say that it's snowing over Donner - carry chains (we both forgot our chains). We make it over Donner without seeing any more snow.
At a rest stop we start figuring mileage with Jay's GPS receiver and realize that by bypassing the jog to highway 50 we will be a a few miles short of our 1000 miles so we turn south at Sacramento and follow 99 to Stockton where we gas up, and take Interstate 5 north for a very uneventful night ride in the wee morning hours back to Chico. (Except for lots of stops to sprint around parking lots to get the oxygen pumping back into our brains - sure looks foolish but it works!)
We pull into Chico at 5:00 AM, April 19- 23 hours (too many rest stops - too much snow - too cold! "no problem it's not going to last (!?!)") We made it! Glad it's over - boy did that bed feel good -  next time I ride that direction WILL be in the summer!
I sleep about 6 hours that day, the last thing I remember is Becky and Pina, my teenage girls asking me questions and laughing at the answers - I guess I was babbling!